About Rumba | Pedigree | Achievements | Gallery | Progeny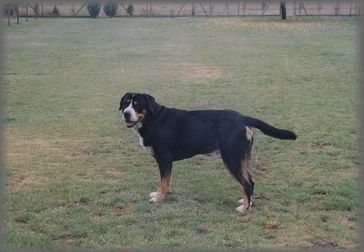 Aldo v.Kohlereschlucht: Int.Ch., Ch.Sk., Ch.Cz., Ch.Pl., Ch.H., Ch.A., Ch.Sch., Grand Ch.SK., ZW.E.2003, Zw.E.2004, Zw. Srodkowozachodnioeuropejski, ZW.Kl.Ch Europa 2005, II Najpiekniejszy Pies Europa 2005.
x CH.PL., Mł.Ch.Pl., Zw.Kl., Mł.Zw.Św. Malwa Refugium (RUMBA)
15.10.2006 litter "G".
Because the F litter was so successful so I decided to repeat the same genes and used Aldo once more.
.
This time Rumba gave 3 healthy and wonderful puppies: 1 boy & 2 girls. One female isn't agree with a standard – she has too much white on her head (you can see this on the pictures), but is very sweet :-)) The second female and the male are agree with a standard and I hope that in a future they can be showed on many, many dog shows.
---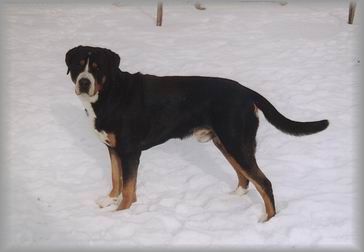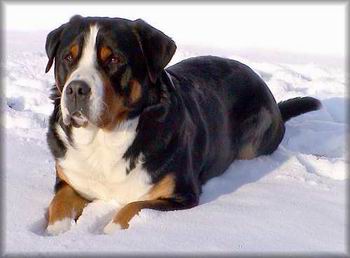 Int.CH., SK.CH., CZ.CH., PL.CH., H.CH., A.CH., SCH.CH., SK. GRAND CH., E.W.' 03, E.W.' 04., Winner of the CH.Class at Eurodogshow ' 05 ALDO v. Kohlereschlucht
x PL.CH., PL.J.CH., J.W.W. MALWA Refugium (RUMBA)At the end of July me and Rumba visited Jan Balog and his beautiful and very titled Aldo, who live in Slovakia. Our visit was very successful and the result is litter F: 4 beautiful girls and 2 very handsome boys which were born 29.09.05. All puppies are healthy, strong and full of energy. They all agree with the standard so I hope they could be to shows in the future.
---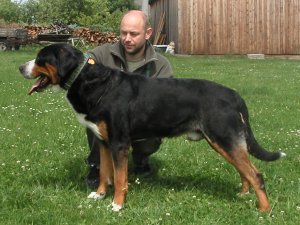 CH.Cz., CH.Sk. CH.PL. Cato Rodyry x CH.Pl., J.Ch.Pl., BOB, Junior World Winner Malwa Refugium
On June 15 Rumba had a meeting with her first favourite, which was the beautiful Cato.
We took a trip to Czech Republic, where Caco lives in the kennel of Mr and Mrs Sklenar. The visit was successful and the result are 4 beautiful, big and healthy puppies born on August 19. There 3 boys and 1 girl.